Got Mangoes?
I'm sharing my mango experience with you here.  I love mangoes, but it's not always easy to find great mangoes when you're not in a place where they grow.
Here's how to find the best mangoes wherever you're looking, and some good ways to eat them too.
What's your favorite way to eat mangoes?
To get started, sign up for our Free E Reports and get free instant access to an interview I did with Susan Smith Jones, The Joy Factor: More Joy & Less Stress in 7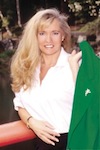 Easy Steps.