Home of Sexy Fit and The Organic Adventure Show.
Transform your life with cutting edge Natural Health Knowledge and Personal Growth Support.
Do you want to look and feel your best?

I'm sure you do; and that's why you're reading this right now.  I don't want to waste your time.  I'm Sye Rodriguez, and if you're anything like me, your time is valuable; and you want to get straight to what works, so you can live your best life.
You can search through our site and get a lot of valuable information on vibrant living free, and we're always updating with more helpful tips, to support you on your health journey.
To get started, sign up for our Free E Reports and get free instant access to an interview I did with Susan Smith Jones, The Joy Factor: More Joy & Less Stress in 7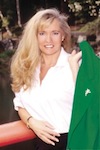 Easy Steps.
Internationally renowned motivational speaker and holistic health expert, Susan Smith Jones, PhD, is the author of more than 25 popular books on living a vibrantly healthy, balanced life. She's never taken medication in her life because she follows simple health practices everyone can embrace. Learn about Susan's gold-star secrets to healing your body, looking younger, and living with more joy and gusto in my interview with her.
Fill in the form below for instant access to the Susan Smith Jones, PhD interview.
Access past episodes of the Organic Adventure Show; and other helpful Natural Health and Personal Growth Knowledge through the directive links on this page.