Do You Like Your Vegan Protein Powder?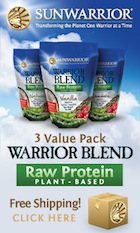 I've gotten off to a good start writing about the vegan protein powder.  I've used 2 that I consider to be the 2 best vegan protein powders.  You can read more about them at the following links.
What's The Best Vegan Protein Powder?
My Warrior Food Protein Powder Review
Today we are sharing a video with you from SUNWARRIOR.  I like their protein powder, but the question is:
Do you like your protein powder?
The video below is something I think you'll enjoy and it might even make you want to change your protein powder.
What Is Protein | Sun Warrior (Video From SUNWARRIOR)
There's a lot of good information in the video and it's short and too the point.  By the time you've finished watching it, you'll likely want to know more about Sun Warrior Protein.  I recommend you buy some.  Please use the links on this page.  We review the best products and use them too.
Sunwarrior makes a unique protein powder available to us, and it's superior on a number of levels to other protein supplements you can find.
The taste is good.  It's very simple and it leaves you feeling good.  This vegan protein powder won't leave you feeling bloated, as is covered in the video.
Learn How SUNWARRIOR Can Help You Earn!