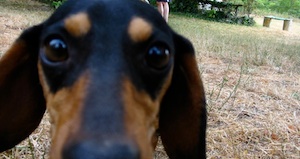 This is the Doggy Lama.  His picture is on the wall in front of my desk.  He was my Father and Mother in Law's dog, and as you can probably see he's a Dachshund.  If you look into his eyes and let him look back into yours you'll know everything is going to be okay.  Ha ha!
May peace, joy and happiness be with you all of the days of your life.


Welcome to my Blog.  It is my hope you will find the answers to many questions in these pages.  Health, Wealth, Happiness, Truth, and Humor are some of the things I am interested in.
For you to know who I am there are a few things you should know about me.  I am an open minded person.  That being stated, I must give credit for my successes where I believe they are due.  The words and life of Jesus are the foundation of the good in me I have to share.  It is not my intention to preach.
In stating these facts, I suspect some people will make assumptions about me; both positive and negative.  If you get to know me you may be disappointed or pleasantly surprised, depending on where you are coming from; as I am in no way conventional, by my own standards.
Whoever you are and wherever you are coming from, it is my quest to offer you the best of the information available on the subjects I write about.  I hope you enjoy what you find here.  Be sure to sign up for my emails so I can keep you posted on the latest and best information I have found and am to find.
May these pages also be an inspiration for you to find the best inside of you; and may we help each other to Live That Awesome Dream.
Keep Dreaming,
Sye Rodriguez