A Camping Mattress That Makes Sleeping Anywhere Comfortable
Are you tired of Air Mattresses that take so much effort to get ready, and often lose air over night?
Do you miss out on adventures because you don't want to sleep away from home?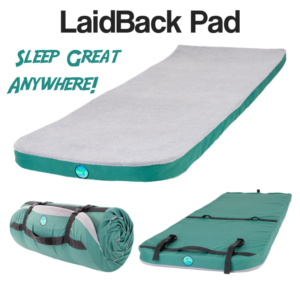 If you answered yes to either of the questions above the Laid Back Pad might be just what you were looking for.
Several months ago I started sleeping on a LaidBack Pad, and for me it's definitely more than a camping mattress.
As of now, I've slept on it for about 6 months at home.  It's perfectly comfortable, and it doesn't take up a lot of space.  Besides it being a very comfortable sleeping pad, it rolls up so you can easily store it away, or move it to a corner during the day if you want to make more space wherever you are.
But Why Should You Consider Getting A LaidBack Sleeping Pad?
Comfort: First of all, it's a very comfortable.  It's made with 3 layers of foam, the top 2 being memory foam, and the bottom layer, a more dense foam to keep you from bottoming out, and from feeling any objects, like rocks, beneath you.
Multi Use: Whether you're having some guests over, going camping, or sleeping anywhere, the LaidBack Camping Mattress is a quick solution for comfortable sleep; It's really as simple as releasing the straps, if it's rolled up, and unrolling it.
It only weighs 8 pounds 4 ounces, and takes up minimal space so anytime you're going to be sleeping away from home, it's simple to throw in your vehicle and you'll be confident knowing you'll be getting a good sleep wherever you stay.
Maybe you want to relax outside somewhere, and you want a comfortable barrier between you and the ground.  The LaidBack Pad is your convenient solution.
To put it Simply, this camping mattress provides a comfortable option for sleep anywhere, and it's super easy to set up, without the challenges that come with air mattresses and cheap uncomfortable sleeping pads.
The LaidBack Pad cover is made from a very durable 1600 denier material on the sides and bottom and a soft and comfortable polar fleece on the top.  You can remove the cover and wash it if you ever need to.
It's built to last for a long time, and possibly a lifetime, depending on how you're using it.
As I revealed in this article, I'm currently using this camping mattress as my bed at home, and I have no complaints.
You can learn more about the LaidBack Sleeping Pad at LaidBackPads.com, and you can buy this camping mattress on Amazon. If you have Amazon Prime you get free shipping, and many areas qualify for free shipping without Amazon Prime.
Read below to see what some other people are saying about the Laid Back Sleeping Pad, and let us know if you like the Laid Back Pad in the comments section.
"By Leah on December 24, 2016
Verified Purchase
I have to sleep flat on my back on the floor due to bulging discs and annular tears so I have been on a hard yoga mat laying on a folded blanket for about a year and a half. Soooo yes anything would have been better but I have to be careful with my back. I loooooove this pad so much I get cranky when I can't go home to sleep on it so I bring it with which is super convenient 🙂 It can go virtually anywhere which is amazing. I thought it might be too expensive and I'll tell you what!!! It's the best sleeping pad I have ever bought. I don't even think about buying a bed anymore lol" Amazon Review
"By Amazon Customer on November 6, 2016
Verified Purchase
I finally have found the sleeping pad solution i've been looking for. I gotta say I did balk at the price, but the extensive great reviews swayed me. I've got a bad back and needed a comfortably soft but supportive pad for my camping cot. This pad is perfect for that. It's not too wide, 24″, which fits my cot just right. I haven't had a chance to take it on the road yet, but I set it up and enjoyed a long nap. In fact sleeping on my side I never felt like I needed to change positions .. remarkable." Amazon Review
"By Jane Doe on July 19, 2016
Verified Purchase
Feels like a mattress! I was desperate for a comfy air mattress and everything we bought deflated or simply pooped out after a few uses–this pad is incredibly simple (no electricity needed–just lay it out and sleep) and unbelievably comfortable. My hips don't ache, my back doesn't hurt–I actually sleep well on this pad. We are a military family who moves too often and always need a temporary sleeping pad and FINALLY we found a great option!" Amazon Review
The above reviews are all directly from Amazon, where you can read a lot more reviews about the LaidBack Sleeping Pad yourself.
Thanks for reading, and please let us know if you have, or end up getting a LaidBack Pad.  We'd love to know about your experience.