Get Fit Quick With Jeff
ON THE AUGUST 25TH, 2010 I HAD THE OPPORTUNITY TO SPEND SOME TIME INTERVIEWING JEFF SEKERAK!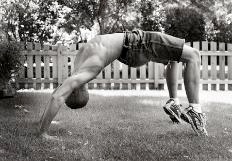 THE TITLE OF THE INTERVIEW IS EXTREME FITNESS AND OPTIMAL EATING!  
JEFF SHARES SOME OF HIS SECRETS ABOUT HOW TO BE HEALTHY AND FIT IN A MINIMAL AMOUNT OF TIME, AND TELLS OF HIS TRIALS THAT LED HIM INTO THE LIFE HE LEADS NOW.  
JEFF IS THE AUTHOR OF THE BOOK EXTREME MINIMALIST FITNESS.
IN 2009 HE SPENT 3 DAYS HIKING 120 MILES IN DEATH VALLEY!
TO PUT IT LIGHTLY, JEFF KNOWS HOW TO HELP YOU GET IN THE BEST SHAPE OF YOUR LIFE! 
Click Here For Your Free Audio Dowload Of Fitness And Food With Jeff Sekerak!
YOU CAN READ MORE ABOUT HIM AND PICK UP A COPY OF HIS BOOK AT:
http://www.superiorbodyhealth.com
or